What is pediatric hospice?
The Visiting Nurse Association's Children's Haven Pediatric Hospice is one of only two pediatric hospice providers in the Dallas-Fort Worth Metroplex and three in all of North Texas. VNA Children's Haven serves children suffering from life-limiting illness and provides support to their families.
Pediatric hospice is a delicate albeit incredibly important service. Providing comfort and care to these children as they suffer from life-limiting illnesses while supporting their siblings and parents is vital and special work. VNA Children's Haven launched in 2021 to begin providing this desperately needed care and served 66 unduplicated pediatric patients throughout North Texas last year alone.
You can learn about our Children's Haven Pediatric Hospice here: Learn More About Pediatric Hospice Care
You can support this vital program by purchasing supplies utilized by our Certified Child Life Specialists: Purchase Child Life Supplies
Gear up in style and show off your VNA pride! We've launched our company store and have curated a treasure trove of VNA-branded merchandise designed exclusively for our dedicated community. From trendy t-shirts to cozy jackets and baseball caps to cups, we've got you covered from head to toe!
Your generosity, expanded!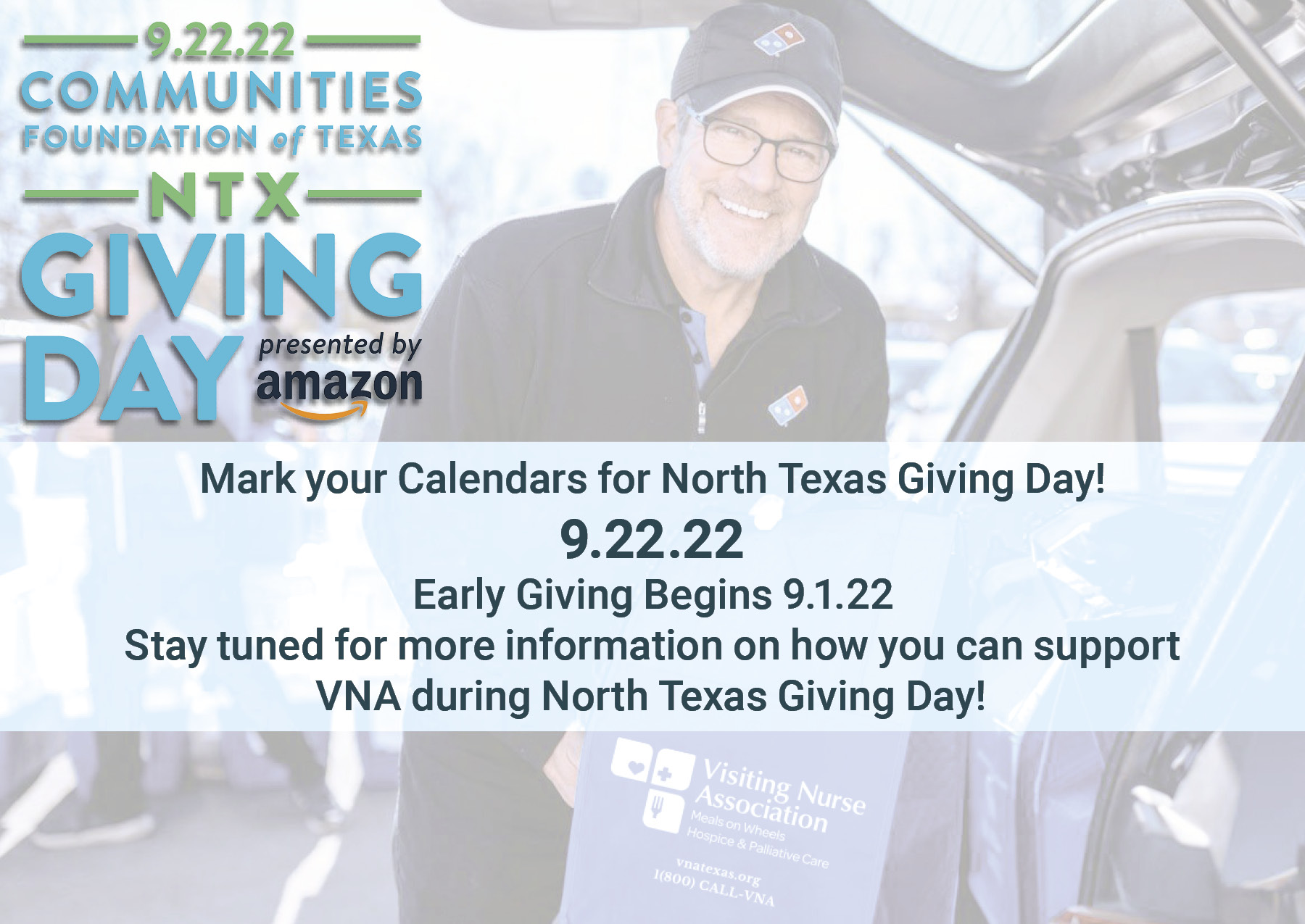 Your gifts of time and treasure ensure our hungry VNA Meals on Wheels clients are nourished with food and friendship, and that our clinical team continues caring for seriously ill patients through our hospice and supportive palliative care programs. We know our important work would simply not be possible without you. Here's what your gifts on North Texas Giving Day can do:
With a gift of $2,015, you will feed an isolated, hungry senior neighbor for an entire year.

For $500, your gift will provide 65 meals to homebound seniors.

A gift of $150 will provide compassionate care for one day to a hospice patient with no place to turn and no means to pay.

A $250 gift will support our Children's Haven Pediatric Hospice program.

A $78 gift will provide 10 nutritious meals feeding a senior for 2 weeks.

For $39, your gift will provide 5 hot, nourishing meals to our hungry neighbors in need.

For just $23, you will provide 3 meals to hungry VNA Meals on Wheels clients.
On behalf of those we serve, thank you for your generosity!
A Message From Katherine Krause –
Shining a light on the needs of Dallas seniors


The City of Dallas Senior Affairs Commission recently issued a report detailing the state of seniors in the city, outlining how food insecurity, lack of affordable housing, and transportation are worsening for the fastest-growing segment of our population: neighbors 60+.
The report points out that food insecurity is still a significant issue for Dallas residents but is exasperated among seniors living on fixed incomes. The lack of grocery stores in low-income neighborhoods, rising food prices, and mobility issues are leaving too many of our elderly neighbors without access to healthy food.
Additionally, the report highlights how the pandemic has left seniors even more isolated. The report details, "According to the Administration for Community Living (ACL), between the end of 2020 and early 2021 there was an increase in symptoms of anxiety and depression among older adults in the U.S. Since the onset of the COVID-19 pandemic, 21% of Medicare beneficiaries reported feeling more lonely or sad, 15% reported they felt less financially secure and 38% reported feeling less socially connected to friends and family⁵."
Peter Kline, Chairman of the commission, recently wrote an opinion piece in The Dallas Morning News asking the city to prioritize Dallas' seniors in policy and spending. His plea and advice for both City officials and voters shines a light on the struggles faced by the more than 200,000 residents aged 60 and older. Read his opinion here.
The Dallas Observer also did a deep dive into the commission's report. You can read more here and download the report here.
Our work at the Visiting Nurse Association (VNA) is to help the most vulnerable and fastest-growing segment of our community—seniors—age with dignity and independence at home. VNA Meals on Wheels addresses both food insecurity and social isolation by delivering nutritious hot meals and social connection every weekday. Our hospice and supportive palliative care programs ensure those suffering with serious illness receive compassionate care wherever they call home. While we are serving more seniors than ever before, the need remains great, and we need your help to do even more. Through your gifts of time and treasure and your advocacy to help raise the level of support our government provides to seniors, we can be a light to our elderly neighbors.
© VNATexas.org
1420 W. Mockingbird Ln., Suite 700, Dallas, TX 75247
VNA offers Meals on Wheels in Dallas County, VNA Hospice Care serving Collin, Cooke, Dallas, Denton, Ellis, Fannin, Grayson, Henderson, Hunt, Kaufman, Rockwall, Tarrant, Van Zandt, Wise Counties and parts of Johnson and Navarro Counties and VNA Care Choices serving Collin, Cooke, Dallas, Denton, Ellis, Grayson, Henderson, Kaufman, Rockwall, Tarrant, and Van Zandt Counties.
Unsubscribe from this newsletter instantly.