North Texas Giving Day is almost here!!
(September 21st)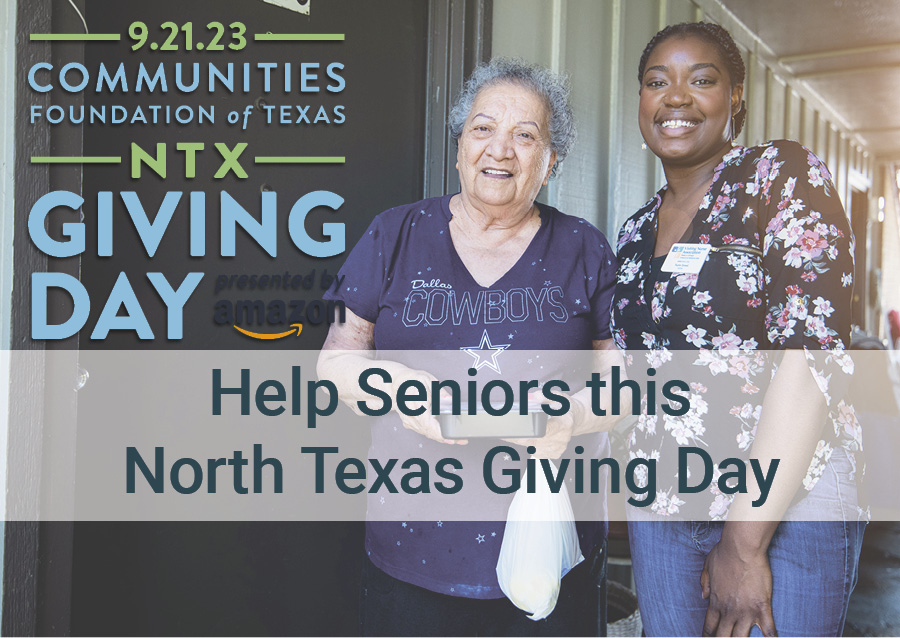 Your gifts of time and treasure ensure our hungry VNA Meals on Wheels clients are nourished with food and friendship, and that our clinical team continues caring for seriously ill patients through our hospice and supportive palliative care programs. We know our important work would simply not be possible without you. Here's what your gifts on North Texas Giving Day can do:
With a gift of $2,015, you will feed an isolated, hungry senior neighbor for an entire year.

For $500, your gift will provide 65 meals to homebound seniors.

A gift of $150 will provide compassionate care for one day to a hospice patient with no place to turn and no means to pay.

A $250 gift will support our Children's Haven Pediatric Hospice program.

A $78 gift will provide 10 nutritious meals feeding a senior for 2 weeks.

For $39, your gift will provide 5 hot, nourishing meals to our hungry neighbors in need.

For just $23, you will provide 3 meals to hungry VNA Meals on Wheels clients.
On behalf of those we serve, thank you for your generosity!
Do you have an hour to spare to deliver meals to our homebound senior neighbors in our higher need
areas of Oak Cliff, Grand Prairie, and Irving?
Grab a family member, friend, or group, and sign up to deliver meals today to our homebound seniors in your area! Our high-need delivery areas where we have a shortage of volunteers are Oak Cliff, Grand Prairie, and Irving. If you have availability, please consider signing up today in the volunteer portal for a recurring route or a one-time delivery that meets your needs.
Looking for a team-building event for your corporate or community group? Look no further! Delivering meals is a great way to build camaraderie while serving your community. Your group can deliver meals and then meet back at our Meals on Wheels kitchen for a group lunch and tour. To plan your Day of Caring event, please contact our Volunteer Engagement Supervisor, Tracie Demery at demeryt@vnatexas.org today!
If you would like a member of our volunteer team to come out to speak to your group about volunteering to deliver meals, please contact us and we will work with you to schedule a volunteer interest session to share more information about volunteering and all services offered by VNA.
Feel free to reach out to our volunteer coordinator if you have questions, need assistance, or to schedule a volunteer interest session:
Karri Hopper: hopperk@vnatexas.org; (214) 689-2209
You may also call the Volunteer Line at 214-689-3222 for assistance.
2023-2024 Teen Board Application Period Now Open!
AMAZON Wish List High-Need Items
We continue to work to provide additional resources for our Meals on Wheels clients. Currently, we are very low on the following high-need items for our clients. Please consider donating one of these items today to fulfill these outstanding requests:
Boxed fans
Women's Depends (Medium, Large, and XL)
Bedliners (All sizes)
Please consider purchasing one of our high-need items from our Amazon Wish List link or QR code below. These items will be sent directly to our VNA Haggerty Kitchen and delivered to our senior clients.
Meet the VNA Meals on Wheels Volunteer Team
We are always happy to hear from you and are here to help make your volunteer experience better! Thank you so much for choosing VNA Meals on Wheels!
Tracie Demery, Volunteer Engagement Supervisor
demeryt@vnatexas.org, (214) 689-2653
Karri Hopper, Volunteer Engagement Coordinator
hopperk@vnatexas.org, (214) 689-2209
April Burns, System Support Analyst
burnsa@vnatexas.org, (214) 689-3220
© VNATexas.org
1420 W. Mockingbird Ln., Suite 700, Dallas, TX 75247
Established in 1934, the Visiting Nurse Association of Texas (VNA) is a nonprofit 501(c)(3) organization that helps people age with dignity and independence at home. VNA offers Meals on Wheels in Dallas County, and VNA adult and pediatric Hospice Care, and Supportive Palliative Care in Collin, Cooke, Dallas, Denton, Ellis, Fannin, Grayson, Henderson, Hunt, Johnson, Kaufman, Navarro, Rockwall, Tarrant, Van Zandt and Wise Counties.
Unsubscribe from this newsletter instantly.