Announcing the 2023 Mary Bartholow
Volunteer of the Year Awardees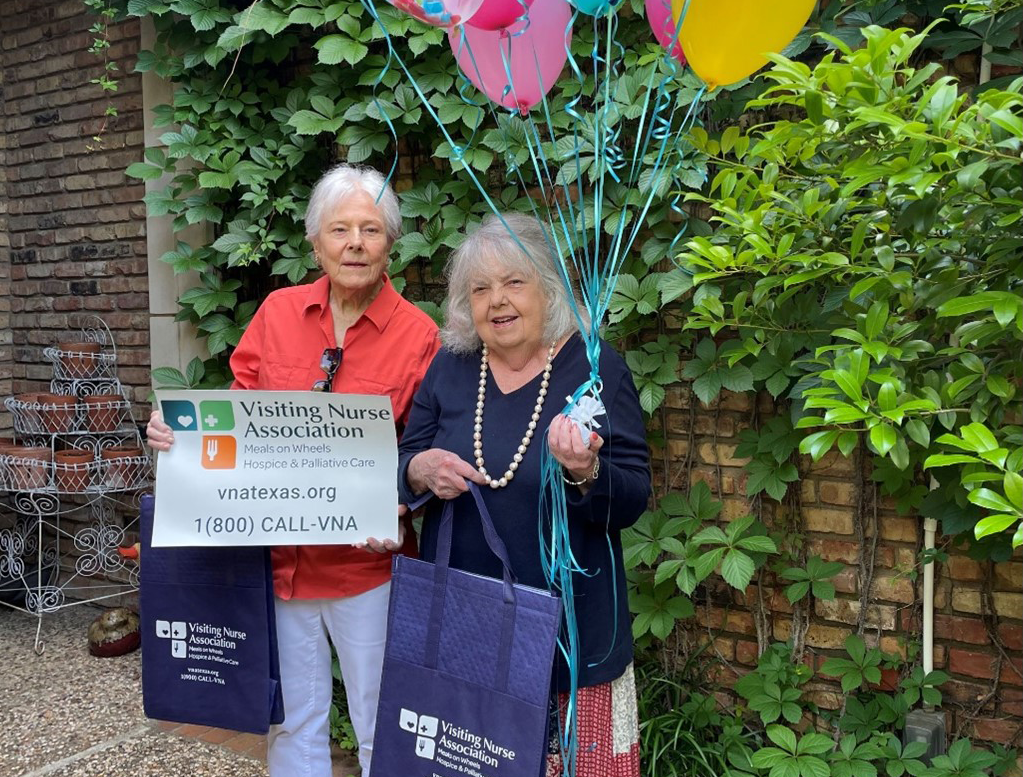 Byrd Teague and Ruthie Garrett are the faces of the Saint Michael and All Angels Meals on Wheels team. The late Mary Bartholow recruited them to join the team more than ten years ago, and since that time, they have delivered thousands of meals and recruited dozens of new volunteers. They gain much enjoyment from the connection and love they feel for the Meals on Wheels clients.
The ladies became friends as fellow members of the acolyte corps, and their friendship deepened when they started delivering Meals on Wheels together. Byrd and Ruthie are Christian disciples who feel an obligation to share their blessings and give back to the community. When Mary passed away suddenly, Byrd and Ruthie stepped in and helped the church—and the Meals on Wheels staff—understand Mary's system to ensure a smooth leadership transition. They now serve as route coordinators for three of the Saint Michael routes. From delivering extra routes when needed to providing words of support and encouragement to the VNA Meals on Wheels team, we all benefit from Byrd and Ruthie's compassionate spirit.
Byrd and Ruthie are the dream team! As servant leaders admired by many at Saint Michael and VNA, these ladies embody Mary Bartholow's commitment to VNA Meals on Wheels and those we serve and are the well deserving of this award. We thank them for their warm hearts and dedication to helping people age with dignity and independence at home.
Volunteers, We Want to Hear from You!
As our dedicated volunteers, you know how much your delivery means to the seniors you serve. The nourishing food and comforting friendship provide so much more than a meal for those who are isolated and alone.
We want to hear from you! Please take a few minutes and complete the volunteer survey by clicking here.
We are grateful for all you do to help us take care of our homebound seniors!
Older Americans Month 2023
 
 
Every May, the Administration for Community Living leads the nation's observance of Older Americans Month (OAM). The 2023 theme is Aging Unbound, which offers an opportunity to explore diverse aging experiences and discuss how communities can combat stereotypes. Join us in promoting flexible thinking about aging—and how we all benefit when older adults remain engaged, independent, and included.
Sign up to volunteer today at https://volunteer.vnatexas.org/landing or contact the Volunteer Team at 214-689-3222.
We are always working to provide additional resources for our Meals on Wheels clients in need. Currently, we are out of stock on the following high-need items. Please consider donating one of these items today to fulfill these outstanding requests from our clients:
Women's Depends (Medium, Large, and XL)
Men's Depends (XL)
Bedliners (All sizes)
Ensure Nutrition Shakes
Your purchase from the Wish List will be sent directly to our Haggerty Kitchen and delivered to our seniors. Thank you for helping our elderly neighbors age with dignity and independence at home!
https://www.amazon.com/hz/wishlist/ls/3GBNVME3ZHD2U?ref_=abls_nvfly_swo
Visit The Volunteer Appreciation Event Photo Gallery
The 2023 Volunteer Appreciation Events were a huge hit! We are so grateful to all of our beloved volunteers and friends who came to the VNA Haggerty Kitchen to see first-hand where the meals you deliver are made each morning. Thank you for coming to celebrate and for all you do for VNA! We couldn't complete the daily miracle of VNA Meals on Wheels without you!
Meet the VNA Meals on Wheels Volunteer Team
We are always happy to hear from you and are here to help make your volunteer experience better! Thank you so much for choosing VNA Meals on Wheels!
Tracie Demery, Volunteer Engagement Supervisor
demeryt@vnatexas.org, (214) 689-2653
Karri Hopper, Volunteer Engagement Coordinator
hopperk@vnatexas.org, (214) 689-2209
Jennifer De La Rosa, Volunteer Engagement Coordinator
jennifer.delarosa@vnatexas.org, (214) 689-2464
April Burns, System Support Analyst
burnsa@vnatexas.org, (214) 689-3220
© VNATexas.org
1420 W. Mockingbird Ln., Suite 700, Dallas, TX 75247
VNA offers Meals on Wheels in Dallas County, VNA Hospice Care serving Collin, Cooke, Dallas, Denton, Ellis, Fannin, Grayson, Henderson, Hunt, Kaufman, Rockwall, Tarrant, Van Zandt, Wise Counties and parts of Johnson and Navarro Counties and VNA Care Choices serving Collin, Cooke, Dallas, Denton, Ellis, Grayson, Henderson, Kaufman, Rockwall, Tarrant, and Van Zandt Counties.
Unsubscribe from this newsletter instantly.