It's Time to Sign Up to Deliver Christmas Joy
to our Senior Neighbors!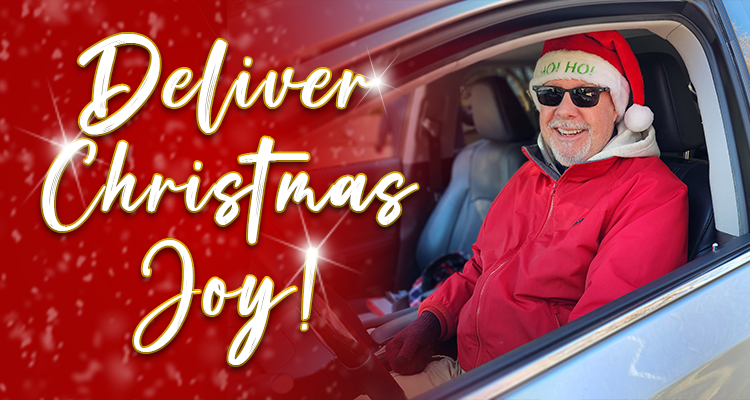 Meals on Wheels has started preparing for our upcoming HOLIDAY DELIVERIES!
On Thanksgiving and Christmas every year, our volunteers deliver hot meals to more than 4,800 Meals on Wheels clients throughout Dallas County. We are excited to report we have enough volunteers for our special Thanksgiving delivery, on Thursday, November 23rd!
We are still in need of 150 volunteers to deliver meals for our Christmas delivery, which will be on Friday, December 22, 2023 (Deadline to sign up: Friday, 12/15/23).
Our holiday deliveries pick-up times will be staggered so you can choose to pick up between 8:30 AM-9:30 AM or 9:30 AM-10:30 AM in the Community Partners of Dallas parking lot located at 7950 Elmbrook Drive, Dallas, TX 75247. Any route that is not picked up by 10:45AM will be reassigned to another volunteer.
If you can deliver some Christmas joy, please select a pick-up time registration link that works best for you:
Christmas Friday, 12/22/23 (8:30am-9:30am):
https://volunteer.vnatexas.org/SpecialEventInvite?specialEventId=a043s00000Yw2jBAAR&accountId=0016A00000dbMmPQAU
Christmas Friday, 12/22/23 (9:30am-10:30am):
https://volunteer.vnatexas.org/SpecialEventInvite?specialEventId=a04Hu00001E0cV8IAJ&accountId=0016A00000dbMmPQAU
Last Chance to Order Pies for Power of Pie!!
Be the hero of your Thanksgiving feast! The VNA Power of Pie event, sponsored by Interabang Books, is underway and the last day to purchase your pies and pumpkin bread is Friday!
Order your pies and bread by Friday, November 17th! Pick up on November 21 and 22 at six convenient pickup locations.
VNA's Pet Program Needs Your Help!
In 2023, VNA served 269 seniors in the VNA Pet Care Program by delivering supplemental pet food for more than 480 of their pets! And that 9% of our Meals on Wheels clients were over the age of 90! Many of our vulnerable clients depend on the pet food VNA provides for their beloved furry companions.
VNA relies on donations from our Amazon Wish List each month to provide their food which is distributed through our monthly pet delivery. We currently have 163 cats in our pet care program and need 163 bags of dry cat food and 50 cases of wet cat food for our November pet food delivery.
If you'd like to help, head over to our Amazon Wishlist or use the QR code below to place an order. You can also drop off pet food at the VNA Meals on Wheels Haggerty Kitchen at 1440 W. Mockingbird Lane between 9am-4pm.
No Meal Deliveries on Friday, November 24th
(Day after Thanksgiving)
The VNA Meals on Wheels office will be closed. Our Meals on Wheels clients have received a shelf-stable meal to eat on this day.
Download the Newest Version of
VNA Meals on Wheels Mobile App
Meet the VNA Meals on Wheels Volunteer Team
We are always happy to hear from you and are here to help make your volunteer experience better! Thank you so much for choosing VNA Meals on Wheels!
Tracie Demery, Volunteer Engagement Supervisor
demeryt@vnatexas.org, (214) 689-2653
Karri Hopper, Volunteer Engagement Coordinator
hopperk@vnatexas.org, (214) 689-2209
April Burns, System Support Analyst
burnsa@vnatexas.org, (214) 689-3220
© VNATexas.org
1420 W. Mockingbird Ln., Suite 700, Dallas, TX 75247
Established in 1934, the Visiting Nurse Association of Texas (VNA) is a nonprofit 501(c)(3) organization that helps people age with dignity and independence at home. VNA offers Meals on Wheels in Dallas County, and VNA adult and pediatric Hospice Care, and Supportive Palliative Care in Collin, Cooke, Dallas, Denton, Ellis, Fannin, Grayson, Henderson, Hunt, Johnson, Kaufman, Navarro, Rockwall, Tarrant, Van Zandt and Wise Counties.
Unsubscribe from this newsletter instantly.