COVID-19 Vaccines to Homebound Clients and Community Organizations Will Resume Monday, April 19th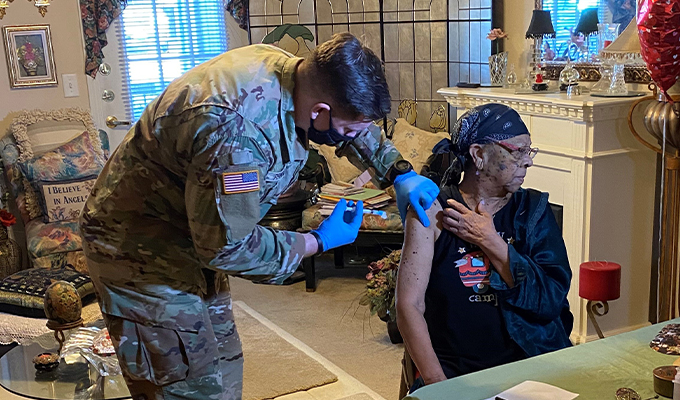 As another way to protect vulnerable senior neighbors amidst the COVID-19
pandemic, the Visiting Nurse Association of Texas (VNA) is partnering with
state, county and city partners to provide in-home COVID-19 vaccines to
homebound seniors and disabled adults in Dallas County. In partnership with
the Texas Division of Emergency Management (TDEM), Texas National Guard
(TNG), and DeSoto Fire Rescue, VNA began a pilot program administering
vaccines in VNA Meals on Wheels' clients' homes in mid-February. An initial
group of 150 Meals on Wheels clients residing in the Cedar Hill, DeSoto,
Duncanville, Hutchins, and Wilmer areas were vaccinated in February and
March.
The City of Dallas and VNA are partnering to identify and vaccinate Meals
on Wheels Clients who live in the City of Dallas and lack mobility to reach
a vaccination site. This program will utilize Dallas Fire Rescue (DFR)
Emergency Medical Services (EMS) staff to vaccinate and VNA staff to
identify, contact and route vaccinations to homebound residents.
The City of Dallas vaccination program was scheduled to begin Tuesday,
April 13 utilizing the Johnson & Johnson single-dose COVID-19 vaccine.
Due to the CDC and FDA recommendation to pause utilizing this vaccine, VNA
and the City of Dallas canceled scheduled vaccines for the week. It is our
goal to provide a safe, efficient process for current VNA Meals on Wheels
clients living in the City of Dallas in need of in-home vaccinations. The
effort will resume on Monday, April 19th utilizing the Moderna
vaccine. VNA is identifying clients to inoculate and is arranging special
routes for the vaccination teams. All clients are observed for any adverse
reactions following the shot.
As a trusted provider of Meals on Wheels since 1973 and with our origins in
health care, VNA has the trust of the community as well as the technology
and infrastructure to facilitate in-home vaccines for homebound seniors.
Clients are being contacted to determine interest in obtaining the vaccine
and are provided with vaccine education to answer to any questions they may
have.
"The clients we serve through Meals on Wheels are the most vulnerable in our community; they are elderly and homebound, do not have access to
technology for scheduling, suffer from multiple chronic conditions, and
reside in areas most impacted by the pandemic," says Katherine Krause, VNA
President & CEO. "We knock on their doors connecting them to food and
resources and it is vital that we bring this life-saving vaccine to them."
At this time the in-home vaccines are only available to current VNA Meals
on Wheels clients. However, the City of Dallas is collecting an interest
list for in-home vaccines. To register for a vaccination and inquire about
the interest list, please go www.dallascountycovid.org or
call 1-855-IMMUNE9 (855-466-8639) between 7 a.m. and 7 p.m.
VNA Launches Children's Haven Pediatric Hospice Program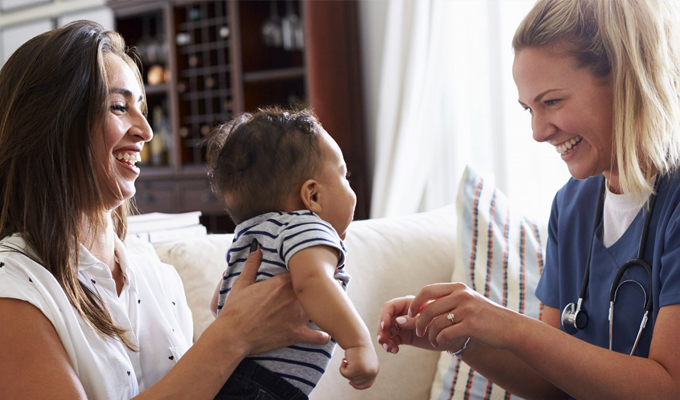 VNA's Children's Haven Pediatric Hospice Program was launched in January to
help meet the community need of providing children with life-limiting
illness and their families with in-home care and support, helping families
to establish goals of care in line with their desires and individual needs.
As another mission-driven example of our tradition of providing care to the
most vulnerable in our community, VNA has formed a team of specially
trained clinicians to provide pediatric hospice services to patients
referred to our program.
VNA's Children's Haven supports patients and their families from prenatal
care and support to 21 years of age. The VNA team coordinates care with
each patient's current team of physicians as well as any other in-home care
needed to best support patients and families. Pediatric hospice provides
patients and their families with the support and care needed in the comfort
of their own homes, while maintaining their physician relationships, home
health care and any other health care needed to meet their goals. Care is
provided through an interdisciplinary team approach based on the patient's
and family's needs and wishes; they determine what services they need which
can fluctuate over time. VNA's specially trained registered nurse case
managers, medical social workers, child life specialist, music therapists,
spiritual support providers, personal care aides, therapists, and
volunteers are helping families navigate this difficult time with grace and
compassion. Click here to learn more about the program.
Chef Julian Barsotti Delivered Delicious Food and Fun for Event Guests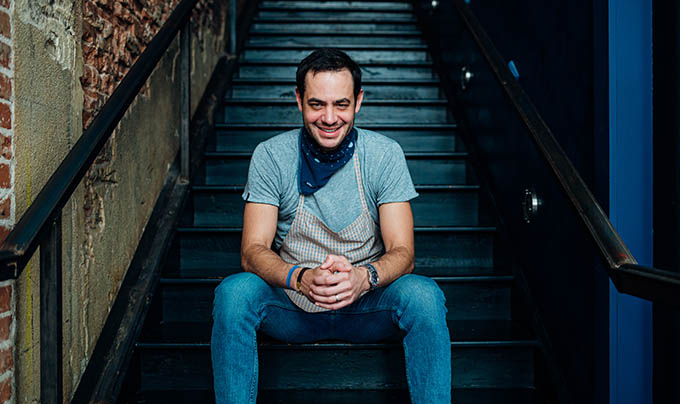 We're STILL full of delicious Italian food and drink from the 11th Annual Celebrity Chef dinner and Cocktails in the Kitchen events! Combined the events raised a record-breaking $646,606 with 100% of funds supporting VNA Hospice and Palliative Care and Meals on Wheels.
A very special thank you to our esteemed Chef Julian Barsotti for sharing his background, fun stories, and a food history with the virtual audiences. Honorary Chairs, Shelley Hudson and Andrea Hagar of the Food Company delivered yet another exquisitely beautiful and delicious meal bringing to life Chef Barsotti's vision for the event feasts.
These events would not have been possible without the vision and leadership of our Co-Chairs Julie and Eric Clark and Catherine and Will Rose (Celebrity Chef), and Flauren and Jason Bender and Louise and Charles Marsh (Cocktails in the Kitchen). Thank you for your dedication to making this event so special and fun for all! Thank you also for our event committee and food delivery volunteers who worked tirelessly to ensure the feast was delivered with care.
We are so grateful for your generous support of VNA and the seniors we serve! Click here to view some photos of the event.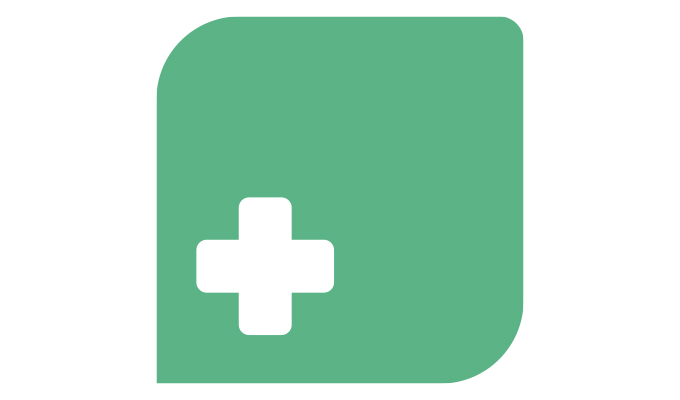 A Message From Katherine Krause
| | |
| --- | --- |
| As the first nonprofit hospice in Texas in 1978, VNA Hospice Care is the most experienced hospice care provider in the state and serves patients across 16 North Texas counties. Our care teams are comprised of trained professionals and volunteers whose main goals are to ensure we are caring for the whole patient and their loved ones. The interdisciplinary team proactively communicates with each patient's doctor(s) and family members, ensuring the care plans are followed and that patient status is communicated clearly and consistently. | |
Our hospice team focuses on helping our patients live life to its fullest with dignity, care, and respect. We develop a comprehensive care plan uniquely designed to meet each individual person's culture, values, and beliefs. The team is available 24 hours a day, seven days a week to support our patients and their loved ones every step of the way on their hospice journey.
Launched in 2018, the VNA Care Choices program provides patients with palliative care, care coordination, and supportive services in the home without discontinuing other treatment options. As the only Medicare-sponsored, home-based palliative care program in North Texas, the program focuses on improving quality of life, patient/family satisfaction, and reducing emergency room visits and acute hospital stays. Patients receive supportive care while keeping flexibility with treatment decisions. VNA's expert staff help navigate the complex medical system, weigh options, and communicate with patients' physicians while providing symptom management and clinical needs.
Clinical care is where VNA's roots began and providing the highest quality care for our patients is our top priority. The medical cross icon within our new logo reflects our roots in providing expert care for the most vulnerable in the place they call home. If you have a loved one who is struggling and in need of additional support, please consider contacting VNA. We are always available to answer questions and provide information.
Sincerely,
Katherine
© VNATexas.org
1420 W. Mockingbird Ln., Suite 700, Dallas, TX 75247

VNA offers Meals on Wheels in Dallas County, and VNA Hospice Care and Palliative Care in Collin, Cooke, Dallas, Denton, Ellis, Fannin, Grayson, Henderson, Hunt, Johnson, Kaufman,
Navarro, Rockwall, Tarrant, Van Zandt and Wise Counties.

Unsubscribe from this newsletter instantly