Rolling Up Our Sleeves to Stop the Spread
As a trusted provider of Meals on Wheels since 1973 and with our origins in health care, the Visiting Nurse Association (VNA) has the trust of the community as well as the technology and infrastructure to facilitate in-home vaccines for homebound seniors. In the fall of 2020, VNA offered Meals on Wheels clients and hospice patients the option to receive the flu vaccine in the safety and comfort of their homes. Additionally, VNA partnered with various senior apartments and community partners to provide the flu vaccine free of charge. VNA has also vaccinated more than 1,400 homebound Dallas County seniors against the COVID-19 virus. Keeping the most vulnerable in our community protected and healthy is just another way we deliver so much more than a meal.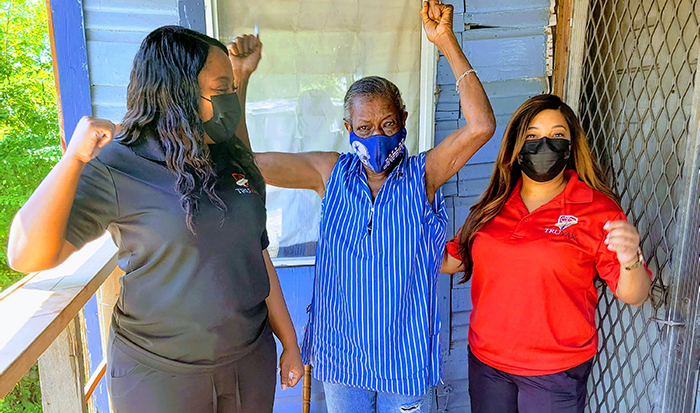 This year it will be even more important to get a flu shot given the lifting of pandemic restrictions and subsequent increased interaction with others, especially in public as fewer individuals wear masks. Exposure to flu and/or COVID may lead to hospitalizations and possibly even death for this vulnerable population. VNA is encouraging all staff, patients, and clients to get a flu vaccine as early as possible. Our VNA nursing team is out in our community again this year providing both in-home vaccines for homebound Dallas County neighbors as well as partnering with community groups (Avance, Brother Bills, Cathedral of Hope, Corner Stone Baptist Church, For Oak Cliff, and Jubilee Community Center) to hold vaccine clinics. All told, we have administered nearly 500 vaccines to date through these efforts.
There's Still Time to Honor your Loved Ones on the VNA Light Up a Life Holiday Tree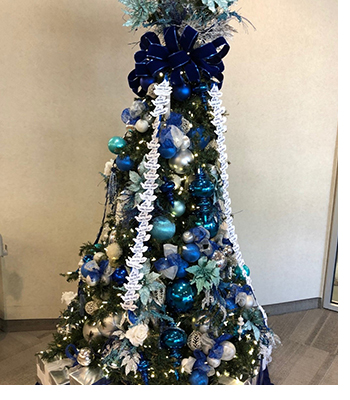 As the holidays approach, many of us are thinking of ways to honor and remember those we love and those we have lost. VNA offers a special way to pay tribute in their honor or memory on the Light Up a Life Holiday Tree.
With a suggested gift of $10 or more, a personalized dove with the name of each life you wish to honor or remember will be placed on one of the community trees. Your gift to the annual Light Up a Life program for VNA Hospice Care ensures VNA can continue to provide compassionate end-of-life care for patients, caregivers and loved ones no matter their ability to pay.
It's not too late to honor or remember your loved one! Trees will be up until January 3. Click here to purchase your dove today.
You Put the "Power" in the Power of Pie!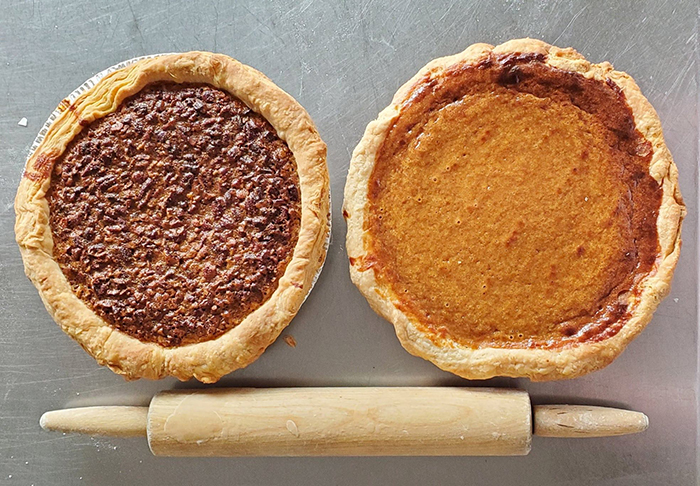 Hundreds of North Texans enjoyed pumpkin pies, pecan pies, and pumpkin bread during our Power of Pie event this year. More than $32,000 was raised through pie and bread purchases as well as via the "Zero Calorie Pie" donation option. Thank you! We're so grateful for those who pre-ordered their purchases and to those who bought pies, bread, and t-shirts during our Thanksgiving Day Pop Up event. These funds will provide warm, nutritious meals to our seniors in need and compassionate care to seriously ill North Texans.
Many thanks to our sponsors:
Central Market
CTI Foods
Empire Baking Company
Market Street
Summit Wine Tastings
The Mansion on Turtle Creek
Trio Community Meals
Ventura Foods
A Message From Katherine Krause – Spirit of the Season
| | |
| --- | --- |
| Reflecting on 2021, I remain eternally grateful for the generous support of our donors and volunteers enabling us to care for nearly 8,000 patients and clients this year. I am also incredibly honored to work with such a dedicated team caring for the most vulnerable in our community. The compassionate staff members of the Visiting Nurse Association of Texas (VNA) are working tirelessly amidst this pandemic crisis to care for and protect those we serve. | |
As we enter a new year still grappling with the COVID-19 pandemic, I look back at all that we have learned, overcome and how much we have changed. We have much to be proud of as an organization. Without a doubt, this will be one of the most challenging obstacles we will ever face as we care for seniors in North Texas. Even in the face of these many challenges, VNA has, above all else, continued to provide hot meals to seniors and compassionate, comprehensive hospice and palliative care. You, our supporters, provide a lifeline and light to our patients, clients, and staff during this unsettling time.
We remain incredibly grateful for your generosity of time and treasure. If you are looking for a way to include service as part of your holiday tradition, I encourage you to sign up to deliver Meals on Wheels with friends, family and colleagues. We are still in need of volunteers for our special Christmas Eve delivery. There are two delivery time options. Click below to sign up:
Christmas Eve (8:30-9:30):
https://volunteer.vnatexas.org/SpecialEventInvite?specialEventId=a043s00000ZefR9AAJ&accountId=0016A00000dbMmPQAU
Christmas Eve (9:30-10:30):
https://volunteer.vnatexas.org/SpecialEventInvite?specialEventId=a043s00000ZefREAAZ&accountId=0016A00000dbMmPQAU
You can also visit volunteer.vnatexas.org to register and sign up for other days this month and beyond.
As we approach holiday celebrations, I encourage you to stand firm in your vigilance in safety practices including wearing masks, practicing social distancing, using proper hand hygiene, and most importantly, vaccinations. Please know we are doing our part to protect and care for those we serve.
We look forward to working alongside you all in caring for the most vulnerable in our community. Thank you again for all you do for VNA and the seniors we serve. We wish you and your family a happy and healthy holiday season.
Kindly,
Katherine
© VNATexas.org
1420 W. Mockingbird Ln., Suite 700, Dallas, TX 75247

VNA offers Meals on Wheels in Dallas County, and VNA Hospice Care and Palliative Care in Collin, Cooke, Dallas, Denton, Ellis, Fannin, Grayson, Henderson, Hunt, Johnson, Kaufman,
Navarro, Rockwall, Tarrant, Van Zandt and Wise Counties.

Unsubscribe from this newsletter instantly