Be sure to sign up to receive all new newsletters by entering your email in the form at the bottom of this page

Join VNA and Julian Barsotti This March 23 – 24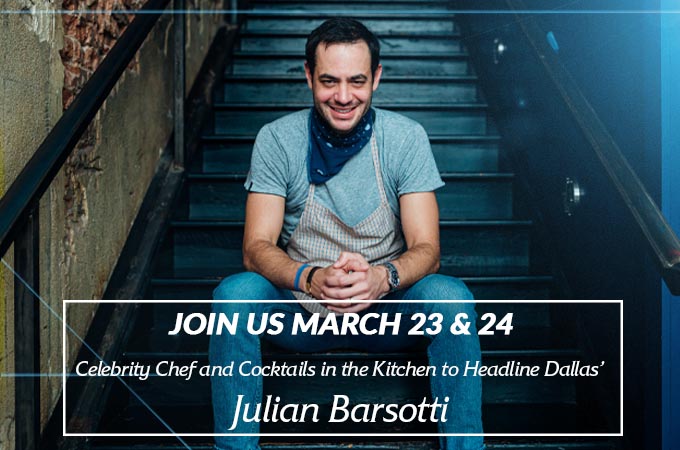 We are delighted to announce that Julian Barsotti, chef and owner of Dallas' favorite restaurants Nonna, Carbone's, Sprezza and Fachini, will be headlining the 11th Annual Celebrity Chef event on March 24th, benefiting the Visiting Nurse Association (VNA).
Serving as Honorary Chairs are Shelly Hudson and Andrea Hagar of Food Company. As founders and co-owners of Food Company, a local custom catering company, they have been fiercely supportive of the Celebrity Chef event since its inception 10 years ago. And, how fortuitous that Shelly just happens to be Chef Julian's mom! Great taste runs in the family.
Event chairs Julie and Eric Clark and Catherine and Will Rose are leading this effort and are strategically positioning the Celebrity Chef event to focus on support, promotion, and advocacy of VNA while keeping safety top of mind.
For more information and to purchase tickets to Celebrity Chef, please visit https://www.vnatexas.org/celebritychef/
Our Cocktails in the Kitchen event, to be held March 23rd, pays homage to Venice, Italy, and the custom of andar a cicheti–the art of enjoying delicious bites made with exquisite ingredients. Under Chef Barsotti's trained Italian culinary hand, you'll enjoy handpicked cichetis and Prosecco while participating in a Venetian-inspired cooking demonstration via Zoom.
Join our Chairs Flauren and Jason Bender and Louise and Charles Marsh and raise a glass to say "Salute"! Stay tuned for the full menu and for more information.
Virtual Deliveries Help Volunteers Find Meaningful Connection During COVID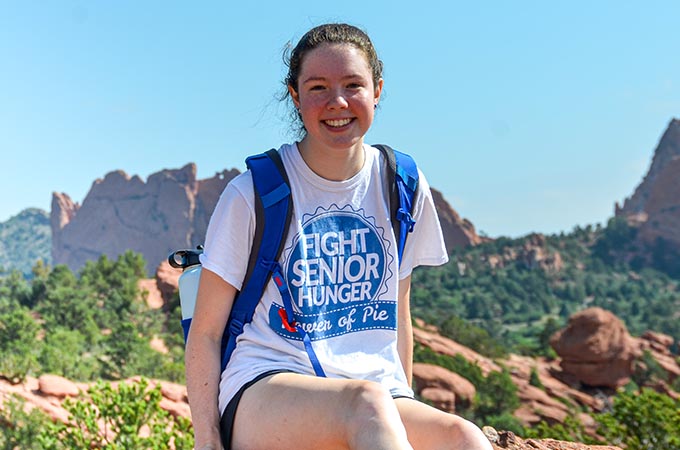 In a new VNA guest blog, hear from Hannah Singer, Sophomore at Ursuline Academy of Dallas and VNA Teen Board member, about how her experience making calls to homebound seniors inspired empathy and compassion. Click here to read more. If you'd like to learn how you can make wellness calls to Meals on Wheels clients, visit volunteer.vnatexas.org or email volunteer@vnatexas.org today!
A Message From Katherine Krause
| | |
| --- | --- |
| The Visiting Nurse Association of Texas (VNA) has the best senior care team, focused on providing compassionate care for patients and their families through Hospice and Palliative Care. We are also closely connected to the community through our Meals on Wheels program, which addresses hunger relief for Dallas County seniors and disabled adults. We we cannot do this without the valuable support from dedicated volunteers! | |
If helping people age with dignity and independence speaks to your heart, get involved with us and contribute toward a positive change for our community. We are always looking to engage with others who share our passion for helping North Texans live happier, healthier lives. Find out more about ways to get involved here:
Sincerely,
Katherine
© VNATexas.org
1420 W. Mockingbird Ln., Suite 700, Dallas, TX 75247

VNA offers Meals on Wheels in Dallas County, and VNA Hospice Care and Palliative Care in Collin, Cooke, Dallas, Denton, Ellis, Fannin, Grayson, Henderson, Hunt, Johnson, Kaufman,
Navarro, Rockwall, Tarrant, Van Zandt and Wise Counties.

Unsubscribe from this newsletter instantly