"It's Frank, your friendly Visiting Nurse Association volunteer calling!"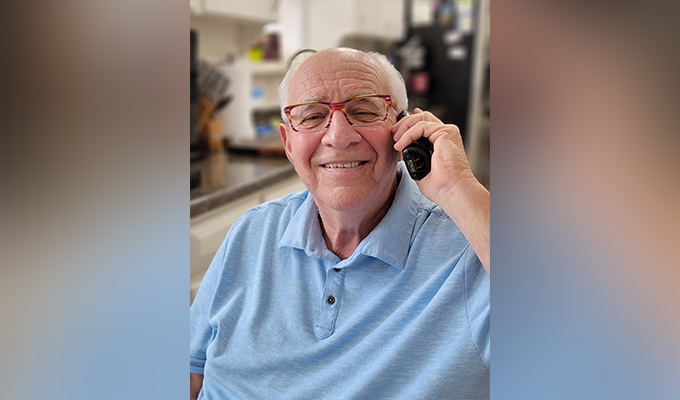 On Thursdays around noon, you'll find retired salesman Frank Meyer sitting at his kitchen table with the phone in hand and his VNA Hospice volunteer paperwork in front of him.
Frank spends about an hour making "tuck–in" calls to the families of VNA Hospice patients. These calls not only allow a check-in on family members-they serve as medicine and supply check-ins as the weekend nears. The program began during the pandemic to help reduce in-person (to decrease exposure) delivery visits and to keep the hospice volunteers engaged.
While not always easy, Frank establishes a rapport with each person on his list. He is extremely aware of the sensitivity of the situation and knows it is a different experience for everyone. Some calls last only a minute or two and others last longer. "I have the gift of gab and it's just a good feeling when I talk to them," Frank says. "I have a guy named Steve that I call every week. He answers every single time. I'm sure he must be a newscaster or something—he has the voice for it!" says Frank. He's had requests to move next door to one family. And one woman refused to answer his calls for weeks, so he left message after message. Finally, she answered his call. Her first words? "Frank, it's good to hear your voice."
VNA also initiated a program in which volunteers write notes or cards to the bereaved one a family member dies. For thirteen months, volunteers like Frank take the time to jot down a few words and thoughts to those who are grieving. "When their loved one dies, they feel abandoned. This is just one small way to let them know that VNA is still here for them, in addition to bereavement services that are offered," he says.
When he's not volunteering, Frank can be found cooking, tending to the lawn, golfing, and enjoying his family. Just three years into retirement, Frank keeps busy. And volunteering for VNA is one of the activities that keep him most fulfilled.
Fan Fridays Start This Week!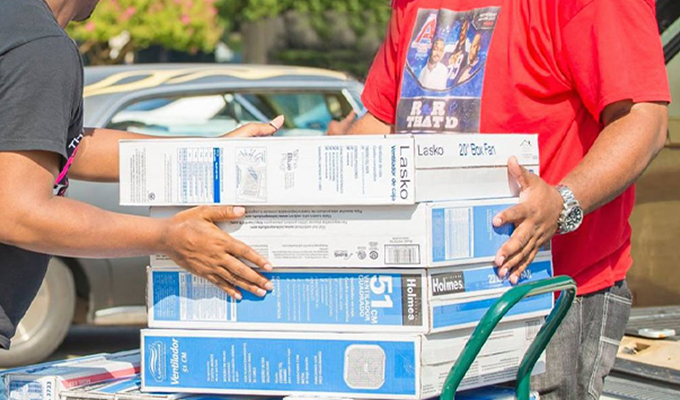 We have officially started our summer fan drive to collect fans to keep our homebound seniors cool during the hot summer months! Please consider donating to our annual fan drive by making a donation here: Box Fan Donation Drive
You can also purchase a fan from our Amazon Wish List link below. The fan will be sent directly to our Haggerty Kitchen and delivered to our seniors.

ps://www.amazon.com/…/3GBNVME3ZHD2U/ref=cm_wl_huc_view?
OR, drop off new fans to the kitchen on Fan Fridays!
Stop by Haggerty Kitchen any Friday between May 14-July 30th during the hours of 10AM-2PM.
1440 W. Mockingbird Lane, Dallas, TX 75247.
Giving grief a voice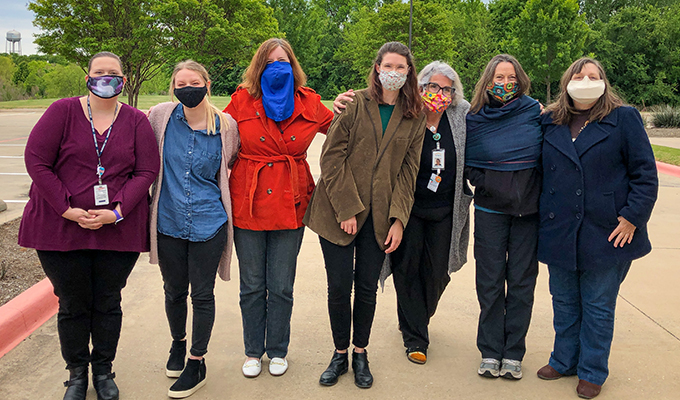 VNA Hospice has just completed its first ever "Grief Choir" program. This 12-week session gathered community members grieving the loss of a loved one to join their voices together in song as a source of healing and comfort. The Grief Choir is a therapeutic space where those living through loss may share the experiences of their grief journeys with each other, and with the community, through music.
The Grief Choir was introduced to VNA by TWU Music Therapy Professor, Dr. Lauren DiMaio. Dr. DiMaio approached VNA Ann's Haven Hospice in Denton with the idea to offer the opportunity for anyone who had suffered a loss to come together and sing to help soothe their bereavement. Dr. DiMaio had previously led Grief Choirs in North Carolina when she worked with a hospice program there. Dr. DiMaio had two practicum students, Bailey Smyers and Grace Ramsey, who were completing their final practicum before moving to the internship part of their training.
The students, VNA bereavement staff and community members on a grief journey joined the choir, which initially met via Zoom and completed their 11-week session with a live session. Participants offered suggestions for songs for the choir to sing and they voted on which ones they wished to use in their repertoire. Three songs were chosen. They were "Keep Me In Your Heart" by Warren Zevon, "Hold On" by R.E. M and "Here Comes the Sun" by the Beatles. Each week the group gathered remotely to share their grief, engage in vocal exercises and sing their songs, first in bits and pieces and then in their full glory!
After 10 weeks of practice over Zoom (one week was missed due to the snowstorm) the group gathered in person adhering to CDC guidelines for social distancing and mask wearing to sing all together. The choir gathered outside the VNA Ann's Haven Hospice office building in Denton, in the parking lot, to share, engage in vocal warmups and sing the three pieces together and in harmony. The sound was so wonderous and many of the participants were moved to tears at hearing everyone all together. After all the songs were sung, the students surprised the group by singing their original composition "Dear Grief Choir" that included tributes to all the members. It was a very special evening and shared grief was met with joyous sounds and healing!
Plans are underway to offer another session of the VNA Grief Choir in the future. If you or someone you know may be interested, please email our bereavement team at griefcare@vnatexas.org
Click here to listen to the choir performance.
A Message From Katherine Krause
| | |
| --- | --- |
| Volunteers are the heart of all we do here at VNA. I am always inspired by the commitment our dedicated volunteers make to help us deliver hope to North Texas seniors and family caregivers. I see first-hand the impact our volunteers make and the stories of changed lives for both the volunteer and the clients and patients are truly what make our community work. I want to share a few highlights of the amazing work our volunteers have done since the pandemic began: | |
10,000+ tuck in calls to home patients to offer emotional support and check in with patients and families to see if they had needed supplies and medications before the weekend

125 heart-shaped "hug pillows" have been sewn and delivered to bereaved family members following a hospice patient's death

276,520 meals delivered

91,534 virtual deliveries- wellness check phone calls

25,657 pounds of pet food delivered to our 290 pet program seniors for their 525 pets

904 Nourishing Neighbor food boxes delivered to our higher need clients
If helping people age with dignity and independence speaks to your heart, get involved with us and contribute toward a positive change for our community. We are always looking to engage with others who share our passion for helping North Texans live happier, healthier lives. Find out more about ways to get involved by clicking here: https://www.vnatexas.org/join-the-mission/
Sincerely,
Katherine
© VNATexas.org
1420 W. Mockingbird Ln., Suite 700, Dallas, TX 75247

VNA offers Meals on Wheels in Dallas County, and VNA Hospice Care and Palliative Care in Collin, Cooke, Dallas, Denton, Ellis, Fannin, Grayson, Henderson, Hunt, Johnson, Kaufman,
Navarro, Rockwall, Tarrant, Van Zandt and Wise Counties.

Unsubscribe from this newsletter instantly