VNA Children's Haven: The Superhero Team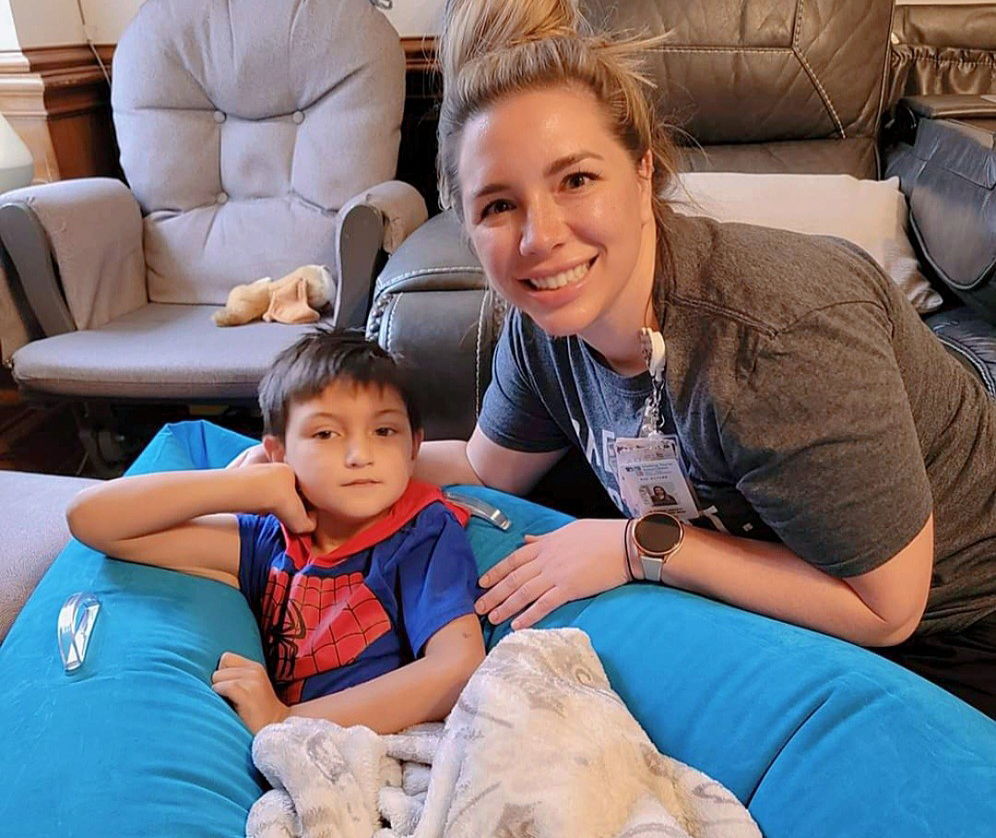 For six-year-old Children's Haven patient, Perrin, being a superhero comes as second nature to this brave boy. Diagnosed with a rare genetic disorder, X-ALD, Perrin and his family have been battling the havoc this disease has placed on his body for many years. In February of 2023, Perrin was admitted to the Visiting Nurse Association of Texas' (VNA) pediatric hospice program, Children's Haven, to provide much-needed support in the home for Perrin whose physical decline and loss of mobility required additional clinical support, as well as vital emotional support for his five siblings, and wrap around services including care navigation for his parents.
VNA's Child Life Specialist, Sarah Leavitt, facilitated legacy activities for the family to keep in memory of Perrin. She also provided emotional outlet activities for the siblings, child-appropriated education related to Perrin's diagnosis and prognosis, and a safe space for Perrin and his siblings to ask questions. Additionally, Sarah submitted applications for A Wish with Wings, Icing Smiles, and The Superhero Project. Perrin's family enjoyed a wonderful Wish trip at Great Wolf Lodge, a family favorite long before his diagnosis. To help make the trip even more memorable, Pediatric Hospice Social Worker, Nancy Stanley, MSW, purchased a Spider-Man swimsuit just for Perrin.
Shortly after the trip, Perrin's mom noticed he was having more difficulty eating and was taking in less food. Pediatric Registered Nurse, Kari Osborn, spoke to the family about options and discussed it with the interdisciplinary hospice team at their weekly meeting. It was decided a gastronomy tube (G-Tube) was the best option for Perrin. The family agreed, but insurance coverage challenges made the procedure too expensive for them to afford. That's when Community Liaison, Aaron Hailey, reached out to her community connections and was able to get Perrin's procedure scheduled regardless of insurance coverage. Perrin's mom was so thankful and relieved! Sarah provided education and preparation to Perrin's siblings about what to expect for his G-Tube procedure and gave them a safe space to ask questions and clarify any misconceptions.
Thanks to the VNA team, Perrin is making the most of his superhero days—some days good and some more challenging—with the support he and his family need. Each VNA Children's Haven interdisciplinary team member plays an integral role as a "superhero" in supporting patients, their siblings, and parents through such a difficult time.
Did you miss our Lunch and Learn?
Earlier this week, VNA Medical Director of Adult and Pediatric Hospice, Kelley Newcomer, M.D., led an informative presentation and discussion about VNA's Pediatric Hospice program, Children's Haven. She discussed the care approach through a specialized interdisciplinary team providing compassionate care for patients prenatally through age 21 and the support provided for the whole family.
Stay tuned for our next educational lunch and learn in early fall.
Prefer to the listen as a podcast? Click here.
Summer is approaching quickly, and kids will soon be out of school! If you're looking for a fun way to keep your kids busy this summer, look no further than VNA Meals on Wheels! Clients love seeing young ones and it's a great way to get kids started young with volunteering. Whether it's a regular weekday delivery, delivering supplementary pet food one Saturday, or getting a group together for a special project—VNA can keep the kids busy this summer! Your support during the summer months is more important than ever.
Visit volunteer.vnatexas.org to get scheduled today!
VNA Hospice is Best in Class!
At the Visiting Nurse Association (VNA), we pride ourselves on prioritizing patient care above all else and continue striving to learn more about our patients' cultures, values, and beliefs—particularly as it relates to death and dying. In our efforts to remain best in class, VNA has earned organizational certifications including SAGECare for the LGBTQIA+ population, National Institute for Jewish Hospice (NIJH) accreditation, as well as receiving Community Health Accreditation Partner (CHAP) recertification again this year. Additionally, VNA's Vice President and Chief Nursing Officer, Olivia Rogers, RN, BSN, CHPN, MBA has also earned the distinguished Certified Hospice Professional Operator from CHAP.
A Message From Katherine Krause
May is Older American's Month


Every May, we observe Older Americans Month (OAM). When Older American's Month was established in 1963, only 17 million living Americans had reached their 65th birthday. Today, nearly 65 million Americans are 65+. Older American's Month is a time to acknowledge the contributions of seniors and bring awareness to resources to help people age well.
Helping people age with dignity and independence at home is our mission here at VNA—something we are dedicated to every day of the year. But this month, we get to shine a light on the work we are doing through our Hospice, Supportive Palliative Care and Meals on Wheels programs.
As part of our mission, we want to be an aging resource for the community—including you and your friends and family. Here are some ways you can learn more and share the aging resources we provide:
Get to know our website at www.vnatexas.org
Listen and share our Aging Well with VNA podcast series at www.vnatexas.org/podcasts
Check out our social media and share/like/comment:
Thank you for all you do to help seniors age well.
© VNATexas.org
1420 W. Mockingbird Ln., Suite 700, Dallas, TX 75247
VNA offers Meals on Wheels in Dallas County, VNA Hospice Care serving Collin, Cooke, Dallas, Denton, Ellis, Fannin, Grayson, Henderson, Hunt, Kaufman, Rockwall, Tarrant, Van Zandt, Wise Counties and parts of Johnson and Navarro Counties and VNA Care Choices serving Collin, Cooke, Dallas, Denton, Ellis, Grayson, Henderson, Kaufman, Rockwall, Tarrant, and Van Zandt Counties.
Unsubscribe from this newsletter instantly.