Sweeten Your Day, Brighten Someone's Life!
There are only two weeks left to order your delicious pumpkin and pecan pies and pumpkin bread! Purchase your pumpkin and pecan pies and pumpkin bread TODAY before they're gone!
Here are some favorite ways to serve up your pies and bread:
Gift them to co-workers, neighbors, or vendors to say Happy Thanksgiving!
Bring as your potluck item to Thanksgiving dinner—or order for your Thanksgiving spread so you don't have to do any baking!
Buy an extra and put it in the freezer for when you crave a bit of pie or bread in the cold winter months.
Order your pies and bread by Friday, November 17th! Pick up on November 21 and 22 at six convenient pickup locations.
Thank you to our generous Power of Pie Sponsors: Interabang Books, Saint Michael and All Angels Episcopal Church, The Jerry R. Junkins Family Foundation, Texas Instruments, Canary, and MaryBeth Boutique.
Light Up a Life this Holiday Season
To help honor our loved ones' memories or those who have made a positive impact, VNA offers a way to pay tribute on the Light Up a Life Holiday Tree.
With a suggested gift of $10 or more, a personalized dove with the name of each life you wish to honor or remember will be placed on one of the community trees (Dallas, Denton, McKinney). For a donation of $100 or more, you may choose to have an engraved crystal dove ornament mailed to your home. Orders for crystal ornaments must be received no later than Friday, November 17.
Your gift to the annual Light Up a Life program for VNA Hospice Care will ensure VNA can continue to provide compassionate end-of-life care for patients, caregivers, and loved ones no matter their ability to pay. Purchase your dove(s) today at www.vnatexas.org/lightupalife.
VNA Welcomes Hospice & Palliative Medicine Fellows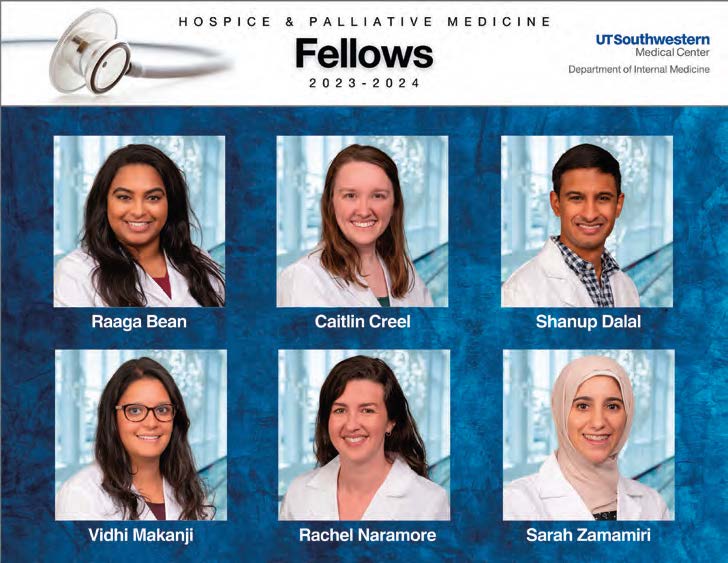 UT Southwestern and Baylor Scott and White have partnered with the Visiting Nurse Association (VNA) to be the hospice training site for doctors pursuing fellowship certification in Hospice and Palliative Medicine. Hospice and Palliative Medicine is a one-year fellowship where doctors learn essential skills in taking care of patients with serious illness and at the end of life.
As the medical field develops, there is an effort to incorporate more Palliative and Hospice Care into various disciplines and these physicians come from a variety of training programs. The fellows will work with the entire Hospice and Palliative Care teams. They will also attend interdisciplinary meetings and make home visits while providing symptom management for patients.
Here at VNA, we are always striving to provide the best Hospice and Supportive Palliative Care possible. Having fellows train with us is a responsibility as well as an opportunity to learn the newest innovations in our field. We want to extend a warm welcome to these new fellows!
A Message From Katherine Krause


This November, we recognize the care and dedication of our amazing team during National Hospice and Palliative Care month. For more than 40 years, the hospice philosophy of care in the United States has provided comfort and dignity for millions of people, allowing them to receive care in the place they call home surrounded by the people important to them. VNA has been at the forefront of hospice and palliative care since the late 1970s, persistently seeking to learn and implement the best practices to help those suffering from serious illness.
Our dedicated team works diligently to provide patient-centered, holistic care and compassionate support for caregivers. The theme for this month is "Courageous Conversations." Providers across the country will spotlight the importance of hospice and palliative care, helping our communities understand the benefit of this type of serious-illness care and the importance of advance care planning. You can also find many tools and resources for understanding hospice and help for caregivers on our website.
For nearly 90 years, VNA has been a leader in community care. At the heart of all we do, are the dedicated staff who make our important work possible. Last night, VNA was once again honored with the designation of Top Workplaces D-FW by The Dallas Morning News. The Top Workplaces D-FW awards recognize the employers who foster an outstanding culture in the eyes of their employees. In a survey of VNA employees used to determine Top Workplaces D-FW, employees had the opportunity to share their experience with the organization. Here's what two employees had to say about working for VNA:
"I am able to assist people in their day-to-day needs and feel like I am making a positive difference in people's lives."
"My supervisor and those above her not only say they care, but their actions show that they care."
The important work we do each day to deliver food and friendship to homebound seniors and provide compassionate, expert care for those suffering from serious illness is a great privilege. Please join me in a heartfelt thank you to the team helping to make our mission possible.
© VNATexas.org
1420 W. Mockingbird Ln., Suite 700, Dallas, TX 75247
Established in 1934, the Visiting Nurse Association of Texas (VNA) is a nonprofit 501(c)(3) organization that helps people age with dignity and independence at home. VNA offers Meals on Wheels in Dallas County, and VNA adult and pediatric Hospice Care, and Supportive Palliative Care in Collin, Cooke, Dallas, Denton, Ellis, Fannin, Grayson, Henderson, Hunt, Johnson, Kaufman, Navarro, Rockwall, Tarrant, Van Zandt and Wise Counties.
Unsubscribe from this newsletter instantly.