Delivering Joy Brings Joy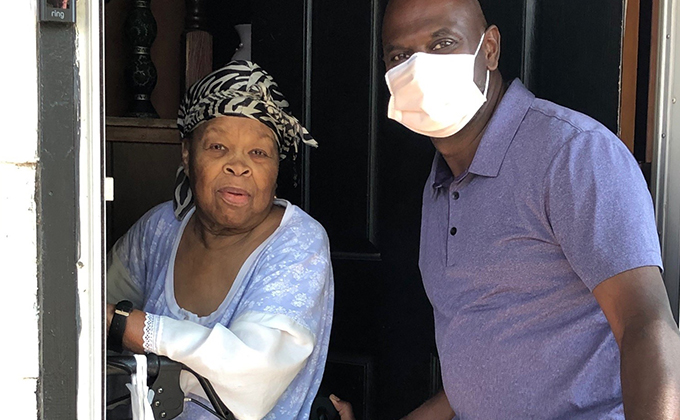 Volunteers are at the very heart of all we do here at the Visiting Nurse
Association (VNA) and we could not do our important work without the
thousands of dedicated individuals who donate their time each year. VNA
Meals on Wheels volunteer Kishore feels strongly about giving back and
during COVID, he began his journey with VNA. "…as a human being I
believe everyone should give back in some form or another."
Click here to read Kishore's story! To learn more about how you can help the vulnerable seniors we serve, go
to www.vnatexas.org/volunteer
or to make a gift to feed hungry neighbors and provide compassionate
serious illness care, go to www.vnatexas.org/give. Thank you
for supporting VNA and all those we serve!
VNA Breaks North Texas Giving Day Record with $231,000 in Donations!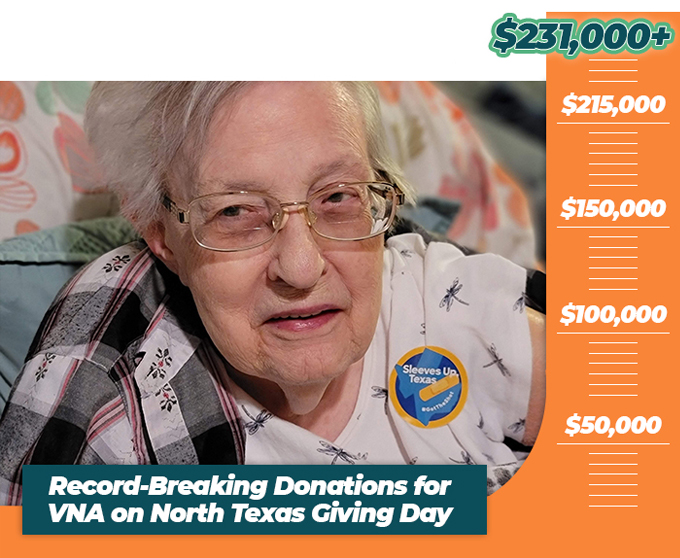 With more than 630 donations, VNA raised $231,000 for seniors in North Texas and YOU made it happen! Thank you for your incredible generosity! VNA Meals on Wheels and VNA Hospice and Palliative Care continue to experience a need like never before and you answered the call. It is only with your support VNA can continue our important work providing comfort, care, and nutrition to those who need it most.
Thank you!
Power of Pie Sales Begin TODAY!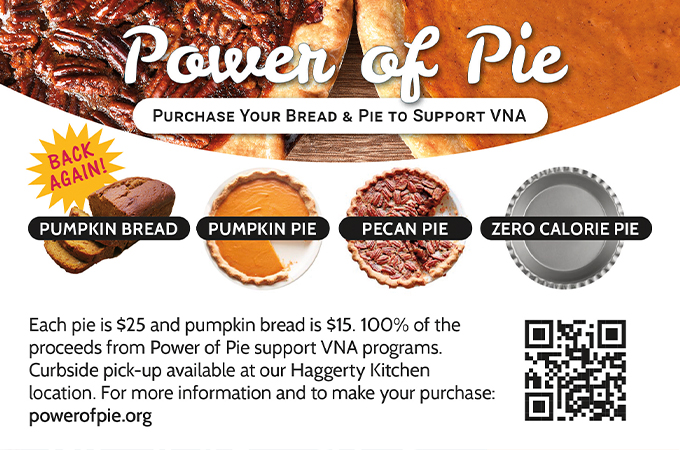 VNA's most beloved event, Power of Pie, is back for another season! It is pie time! We're ready to take your orders online at www.powerofpie.org
How does it work?
Donated pumpkin pies, pecan pies and pumpkin bread are purchased by the
community for $25 per pie and $15 per loaf. For those who don't like pie or
who will be out of town for the holiday, the website offers the option to
purchase a "zero calorie pie" for $25: that's a $25 donation, no pie. Pies
are ordered online at www.powerofpie.org and purchasers
select their preferred date and pick-up location in Dallas, McKinney, or
Denton.
What's new in 2021?
This year, we're adding a Power of Pie Pop Up event on Thursday, November
25th at the Haggerty Kitchen from 8:30am – 10:30am! Swing by our tent (we'll be in front of the kitchen doors) and pick up your pre-ordered pies or bread. If you haven't ordered a pie yet, not to worry! You'll be able to grab a last-minute gift for your Thanksgiving host (while supplies last). Need a snack to enjoy as you deliver your Meals on Wheels route? Stop by and grab a loaf of homemade pumpkin bread. Perfect with a cup of coffee!
Thank you to our sponsors Central Market, CTI Foods, Empire Baking Company, Market Street, Trio Community Meals, Summit Wine Tasting, and Ventura Foods for their generous support.
A Message From Katherine Krause – Fall Into a Season of Service
October 4th marked our first week back to delivering Meals on Wheels five days a week since the pandemic began in March 2020. In an effort to limit contact and protect clients and volunteers, VNA adjusted our delivery schedule at various points during the past 18 months, while still providing five meals per week to clients. We are excited to resume our "normal" delivery schedule, which enables us to check on the vulnerable clients we serve each weekday while also delivering freshly prepared, hot
meals.



As we gear back up, we are in need of more volunteers to deliver. We hope you'll begin your fall with a spirit of service by signing up to deliver Meals-weekly, monthly and quarterly opportunities are available. It is easy to sign up at www.volunteer.vnatexas.org!
Also, we are in need of dedicated hospice volunteers in all of our
16-county service area. Volunteers make calls, provide respite for
caregivers, help record memories for patients to share with family, and deliver birthday treats, among other opportunities. You can learn more at https://www.vnatexas.org/hospicevolunteer
Volunteers are truly at the heart of VNA. Thank you for those who serve and for your consideration of how you can make a difference.
Kindly,
Katherine
© VNATexas.org
1420 W. Mockingbird Ln., Suite 700, Dallas, TX 75247

VNA offers Meals on Wheels in Dallas County, and VNA Hospice Care and Palliative Care in Collin, Cooke, Dallas, Denton, Ellis, Fannin, Grayson, Henderson, Hunt, Johnson, Kaufman,
Navarro, Rockwall, Tarrant, Van Zandt and Wise Counties.

Unsubscribe from this newsletter instantly