Let's do lunch! Volunteers needed to deliver meals Monday-Friday!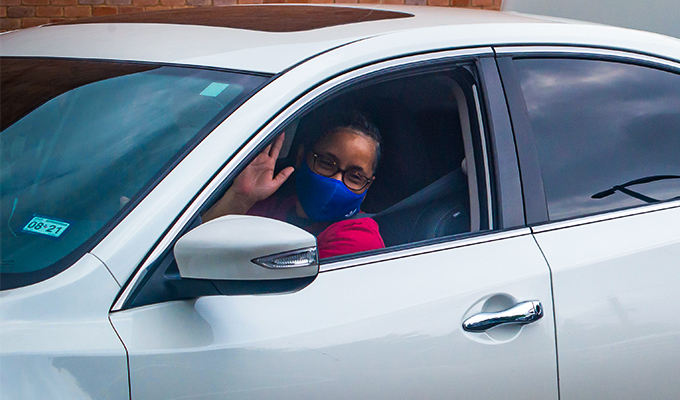 On Monday, October 4th, we will resume our five-day delivery schedule,
adding Monday and Friday delivery of Meals on Wheels. We are excited to
welcome back our Monday and Friday volunteers and recruit new volunteers to
deliver freshly prepared meals and warm smiles to homebound senior clients.
Being able to see our clients each weekday provides another layer of support and safety for vulnerable senior neighbors. If you have volunteered before or would like to learn more, please visit volunteer.vnatexas.org or call the Volunteer Line at 214-689-3222 for assistance.

Deliver Meals on Wheels Safely

Additional information for a successful delivery:


Know Before You Go



Safety and Reporting Guidelines

Thank you and we look forward to scheduling the best lunch date you'll ever
have!
Help North Texas seniors through NTGD!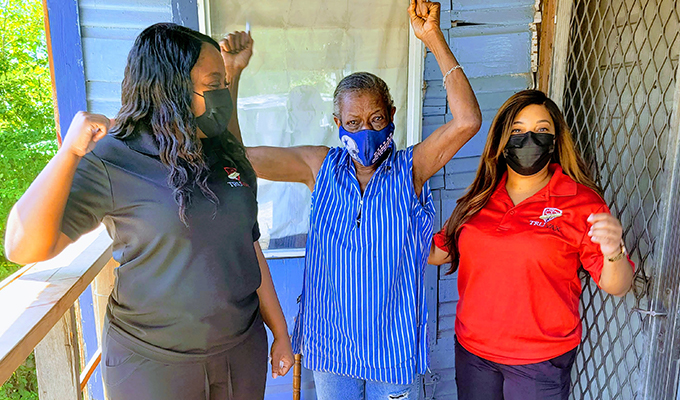 Support our seniors on North Texas Giving Day, Thursday, September 23rd! A gift of only $35 will feed a hungry, homebound senior for an entire week. A gift of $150 will provide hospice care for a patient for a day.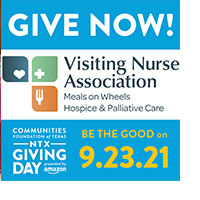 In the past year, we've continued to serve our mission of providing comfort and care for our hospice patients and their families. We deliver 4,500 nutritious meals each day to vulnerable seniors in Dallas County through our Meals on Wheels program. In addition, we've ensured more than 1,400 homebound Dallas County residents have received their COVID-19 vaccine in partnership with Urban Inter-Tribal Center of Texas, Cornerstone Baptist Church, City of Dallas, Dallas Fire and Rescue, Baylor Scott and White, DeSoto Fire and Rescue, Cathedral of Hope Church, Jubliee Park and Community Center, Coalition for Aging LGBT, Perrone Pharmacy and TrueVax. We will continue our in-home vaccine program until there is no longer a need.
As our community navigates through another wave of this pandemic, our vulnerable senior neighbors need your help to ensure their bodies and souls remain nourished and protected, and for our seriously ill patients to receive care that is safe and compassionate.
Your gift matters and you can multiply it even more! Thanks to a generous board member, your gift will be matched dollar-for-dollar up to $10,000.
You can help even further…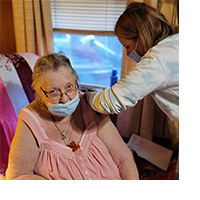 Are you ready to introduce VNA to a new audience and raise funds to keep our mission going? On NorthTexas Giving Day, we have a quick and easy way to do it! Join us in our efforts by creating a FUNdraising page on behalf of VNA to share with your network why our organization is important to you. Creating a FUNdraising page is quick, easy and can make a significant impact on VNA and the lives of the seniors we serve.
Click here for more information on how to become a VNA FUNdraiser!
Be on the lookout for more information about North Texas Giving Day and how you can support our goal of raising $200,000!
A Message From Katherine Krause
As a health care and social service organization serving the most vulnerable in our community, elderly homebound seniors, disabled adults and the seriously ill, it is vital that we do all we can to protect our staff, patients, clients and volunteers. For these reasons, we will require that VNA staff be vaccinated by October 1, 2021.

This measure not only ensures the safety of caregivers, but will help protect thousands of older adults who, due to their age and underlying conditions, remain vulnerable to breakthrough cases of the virus.



This decision follows steps taken recently by numerous health systems and hospitals to protect patients and staff. Currently, the majority of VNA staff are fully vaccinated.
The COVID-19 crisis is not over, and vaccination is our best hope for defeating COVID. Health experts urge that if people want to get back to normal, it is crucial that a significant portion of the population needs to be vaccinated.
Additionally, we are committed to providing access for the most vulnerable in our community to the lifesaving COVID vaccine. Since February, VNA has partnered with local pharmacies, local first responders and other clinical partners to vaccinate homebound seniors and set up vaccine clinics in underserved communities, with nearly 1,400 in-home vaccines administered to date.
Throughout the challenges of this pandemic, I remain inspired by our heroic team, the generosity of our community and the resilience of those we serve.
Sincerely,
Katherine
© VNATexas.org
1420 W. Mockingbird Ln., Suite 700, Dallas, TX 75247

VNA offers Meals on Wheels in Dallas County, and VNA Hospice Care and Palliative Care in Collin, Cooke, Dallas, Denton, Ellis, Fannin, Grayson, Henderson, Hunt, Johnson, Kaufman,
Navarro, Rockwall, Tarrant, Van Zandt and Wise Counties.

Unsubscribe from this newsletter instantly