YOU deliver hope…give through
North Texas Giving Day!
You can put your passion and purpose to work by giving to the Visiting Nurse Association (VNA) on North Texas Giving Day! Your generous gifts given today through midnight on September 21st to VNA will help us serve more hungry, homebound senior neighbors, provide compassionate care for those facing serious illness, and provide comfort for grieving families after the loss of their loved one. Thank you for delivering hope!
Can you spare an hour to deliver joy?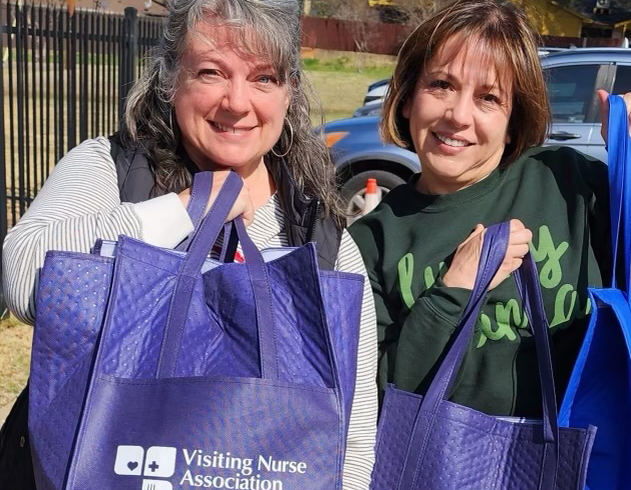 Grab a family member, friend, or group, and sign up to deliver meals today to our homebound seniors in your area! Our high-need delivery areas where we have a shortage of volunteers are Oak Cliff, Grand Prairie, and Irving. If you have availability, please consider signing up today in the volunteer portal for a recurring route or a one-time delivery that meets your needs.
Looking for a team-building event for your corporate or community group? Look no further! Delivering meals is a great way to build camaraderie while serving your community. Your group can deliver meals and then meet back at our VNA Meals on Wheels kitchen for a group lunch and tour. To plan your Day of Caring event, please contact our Volunteer Engagement Supervisor, Tracie Demery at demeryt@vnatexas.org today!
If you would like a member of our volunteer team to come out to speak to your group about volunteering to deliver meals, please contact us and we will work with you to schedule an interest session and share more information about volunteering and all services offered by VNA.
Feel free to reach out to our volunteer coordinator if you have questions, need assistance, or to schedule a volunteer interest session:
Karri Hopper: hopperk@vnatexas.org; (214) 689-2209
You may also call the VNA Meals on Wheels Volunteer Line at 214-689-3222 for assistance.
Christmas in July for some special kiddos!
For families of seriously ill children, celebrations like Christmas are even more special. That's why our VNA Children's Haven team hosted a Christmas in July celebration for our pediatric hospice patients, their siblings, and families. The VNA Haggerty Meals on Wheels kitchen was transformed into Santa's workshop—complete with the big guy himself taking photos with attendees. Specialized games, crafts and memory-making activities were hand-picked for these special kiddos. Families also enjoyed yummy treats and July-friendly ice cream! The incredible memories created at this event for those who may not have the opportunity in December will be cherished forever. You can support our VNA Children's Haven program by making a gift or by purchasing supplies on our Amazon Wish List.
A Message From Katherine Krause – L'Shana Tova


As we enter the fall months, our Jewish neighbors are preparing for the High Holy Days. Rosh Hashanah, the Jewish New Year, will be celebrated by families and friends gathering around the table and partaking in the long-standing tradition of dipping apples in honey. Apples and honey symbolize the hope for a sweet year ahead. It's also customary to offer greetings of "Happy New Year" or "L'Shana Tova."
At the Visiting Nurse Association (VNA), we too have a long-standing tradition of continuously striving to learn more about our patients' cultures, values, and beliefs—particularly as it relates to death and dying. This is a commitment we take seriously and, as such, we have earned organizational certifications including SAGECare for the LGBTQIA+ population, National Institute for Jewish Hospice (NIJH) accreditation and the NHPCO We Honor Veterans program certification. We received the Community Health Accreditation Partner (CHAP)  recertification again this year. Also, VNA's Vice President and Chief Nursing Officer, Olivia Rogers, RN, BSN, CHPN, MBA earned the distinguished Certified Hospice Professional Operator from CHAP.
Meeting our patients' and clients' unique needs is just another way we strive to be a tradition of care our community can trust. Wishing all those who celebrate a L'Shana Tova or Happy New Year!
© VNATexas.org
1420 W. Mockingbird Ln., Suite 700, Dallas, TX 75247
Established in 1934, the Visiting Nurse Association of Texas (VNA) is a nonprofit 501(c)(3) organization that helps people age with dignity and independence at home. VNA offers Meals on Wheels in Dallas County, and VNA adult and pediatric Hospice Care, and Supportive Palliative Care in Collin, Cooke, Dallas, Denton, Ellis, Fannin, Grayson, Henderson, Hunt, Johnson, Kaufman, Navarro, Rockwall, Tarrant, Van Zandt and Wise Counties.
Unsubscribe from this newsletter instantly.