Get Involved
Impact of COVID-19 on
Under-resourced Communities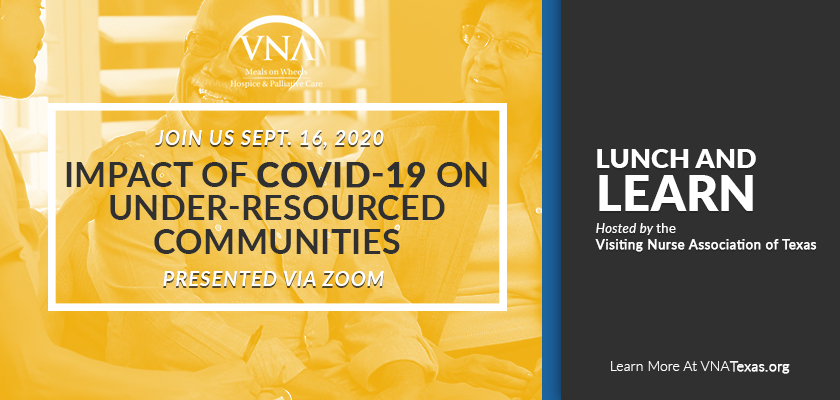 Join us for a Zoom Lunch and Learn
Impact of COVID-19 on Under-resourced Communities
Sept. 16, 2020
Noon-1 pm

Community Heroes offer their expertise and insight into the needs of minority and under-resourced populations during the pandemic. Join us to hear their ideas and recommendations to better serve our community. Bring your questions and ideas to help improve the health of our most vulnerable neighbors.

Register in advance by clicking on the link below:

https://vnatexas.zoom.us/webinar/register/WN_yHtZyZjLSceN-Xhd2FuhTA

After registering, you will receive a confirmation email containing information about joining the webinar.
Panel moderated by Olivia Rogers, RN, BSN, CHPN, Vice President, Chief Nursing Officer
Panel Members:
Mark Casanova, MD, Chairman of Supportive and Palliative Care and the Institutional Ethics Committee at Baylor University Medical Center
Dr. Casanova is a leader in clinical ethics and palliative medicine in Dallas and across the state. He currently serves as the chairman of Supportive and Palliative Care and the Institutional Ethics Committee at Baylor University Medical Center and is board-certified in internal medicine and palliative medicine. Under his leadership, the Supportive Care Service was the first program of its kind in Texas certified by The Joint Commission. He also serves as President of the Dallas County Medical Society for 2020.

His commitment to patients and his physician colleagues has been behind his more than 15 years of service to organized medicine. He has held numerous committee and leadership positions at both the DCMS and the Texas Medical Association (TMA).
Stacie Anderson, Delivery System Reform Incentive Payment (DSRIP) Project Lead, Methodist Health System
Stacie Anderson, MPH serves as Methodist Health System's Delivery System Reform Incentive Payment (DSRIP) project leader with responsibility for implementing and managing the system's DSRIP activities along with other community benefit projects targeting chronically ill and economically disadvantaged populations across the health system's service areas. Under Stacie's leadership, Methodist Health System's DSRIP programs have received statewide and national recognition for their unique patient intervention strategies. Stacie has several years of experience working in a variety of healthcare environments with expertise in revenue cycle, population health, and program development. Stacie holds a Bachelor's degree from the University of Texas at Austin and a Master of Public Health degree from Emory University in Atlanta, Georgia.
Terry J. Flowers, Ph.D., Headmaster and Executive Director of St. Phillip's School and Community Center
Terry J. Flowers, Ph.D., has served as Headmaster and Executive Director of St. Philip's School and Community Center since 1983. Dr. Flowers grew up on Chicago's South Side, ultimately finding a calling to work with young children. He earned a bachelor's degree in Elementary Education from Upper Iowa University before pursuing graduate education. Flowers holds three Master's degrees: Early Childhood Education (University of Northern Iowa), Curriculum, and Instruction and Educational Administration (Columbia University). He has taught school in Iowa, Chicago and Harlem, New York. He completed his doctorate in Education at the Teacher's College of Columbia University in 1995.

The mission of St. Philip's School and Community Center is to provide an excellent school and compatible community services to children, their families, and other residents of southern Dallas, and in doing so, to develop mutual community involvement.
Marissa Castro Mikoy, President & CEO, Jubilee Park & Community Center
Marissa brings with her a wealth of knowledge and an extensive background in both the education and nonprofit sectors. Her holistic approach to community success and background in education reflect a core belief in Jubilee's 5 Pillars of Impact. Her 23 years of experience include her most recent service as the Executive Director at After School All Stars (Dallas, TX), where she focused on organizational leadership, fundraising, organizational promotion, and programming. A native Texan, Marissa's career has included significant work in the Washington, D.C. area where she worked with the D.C. Public Charter School Board. Marissa was charged with providing academic and operational performance oversight to D.C. charter schools, as well as providing early childhood technical support. She was instrumental in leading a city-wide Task Force of D.C. charter schools in the development of an early childhood performance management framework that uses common goals and metrics to assess D.C. public schools. In 2012, Marissa's efforts to improve educational equity in under-resourced communities earned her national recognition when President Obama's Administration named her as a "Champion of Change" for her work in AmeriCorps and a career dedicated to social justice, change, and education.
India J. Holliday, LCSW, CCM, Palliative Care Bereavement Specialist, Parkland Health & Hospital System
India Holliday currently works as the Palliative Care Bereavement Specialist at Parkland Hospital, where she facilitates, plans, and organizes all bereavement services for palliative care patients and their families. Prior to joining the palliative care team, she worked in Parkland's emergency department for a number of years. India received a bachelor's degree in Broadcast Management with a minor in Spanish and a Master of Science in Social Work degree from the University of Texas at Arlington. She is a Licensed Clinical Social Worker and board-certified case manager. India feels very passionately about working with underserved and disenfranchised populations and strives to use her voice and platform to advocate for her community.
Ivan Esquivel, Clinic Manager, Brother Bill's Helping Hand
Ivan Esquivel is the clinic manager for Brother Bill's Helping Hand, overseeing all clinic operations and ensuring a positive patient experience. Ivan has worked for Baylor Scott & White for two years, and now serves as the liaison for partnership between Brother Bill's Helping Hand and Baylor Scott & White. Ivan attended Tarrant County College to study community health. Prior to joining Brother Bill's, Ivan worked on the Innovative Care Team, a project grant-funded by the Deerbrook Charitable Trust to focus on supporting and enhancing services for the Medicare Shared Savings Program (MSSP) population. He hopes to leverage his background and experience in community health and outreach to help reduce A1c scores and improve access to care for patients. He has a passion for helping the uninsured population obtain access to care and his long-term goal is to one day be able to oversee his own nonprofit community health center. 
Chris Culak, Vice President, Chief of Strategy and Development, Visiting Nurse Association of Texas
Chris has more than twenty-seven years' experience in nonprofit management and came to VNA in 2015 after implementing and managing programs for Dallas Children's Advocacy Center, the National Audubon Society, Planned Parenthood, North Texas Food Bank and the American Heart Association. Chris is a former member of the Dallas Citizens Homelessness Commission, a member of the 2020 DISD Bond Committee, is a member of the Finance Committee at Kessler Park United Methodist Church, is a past board member of The Kessler School, Twelve Hills Nature Preserve, and is past a Board Chair of Preservation Dallas. Chris holds a Bachelor of Science degree in Health Care Administration with a minor in Psychology from Texas State University in San Marcos. Chris and is wife Nichole live in Dallas and have two school age children.