It's not uncommon for VNA Meals on Wheels volunteers to deliver their meals in pairs. For Janita Wells, a retired Senior Vice President at Dallas Federal Savings and Loan and Kimberly Harl-Campbell, a General Contractor, it's been their regular routine for the past 15 years.  What is unusual; however, is for one of the volunteers to be 103 years old.  Janita holds the title of the oldest Meals on Wheels volunteer on record.
"You know I'm 103, turning 104 next May. God gave me a good body and I haven't abused it," Janita said. While Janita recently began using a cane to assist her while walking, she is otherwise the picture of health. Kimberly announces Janita's age to every client they visit. "It's not an attempt to embarrass her," she said.  "Instead, it's an attempt to inspire. When people find out her age, they can't believe it. They are completely shocked. It gives them hope that they can be healthy again and live longer, better lives."
Volunteering has been a part of Janita's life since she was young. Inspired by her mother, a single mother of five, Janita recalls a quote she often said. "Mother always said 'We can't give them money because we don't have any but you can give them time because it's just as important'." It's a memory that she reflects on to this day.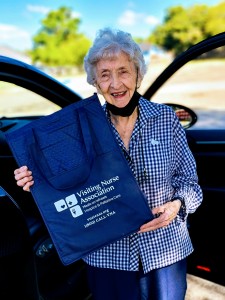 Janita and Kathleen became volunteers by happenstance. Like many old friends, they were struggling to find a time to meet each month.  They decided to do something fun to ensure that their meetings happened each month.  Janita told Kimberly "I love VNA, let's deliver Meals on Wheels."  Kimberly agreed and it's been a date twice a month ever since.
The duo recently started volunteering again after taking a hiatus during Covid-19. Now that they are both vaccinated, they are back to delivering meals twice a month in the Oak Cliff neighborhood. When she's not volunteering with Meals on Wheels, Janita is volunteering with The Projects Group at 1st Presbyterian Church. Her primary role is to work with the materials needed to create animal puppets that are then donated to Children's Health.
"My mother was my idol. Widowed at 42 and left to raise 4 girls and one 1 boy, she was always helping everyone. We had a happy life. That's why I volunteer," said Janita.  May we all be inspired by Janita's long life of volunteerism!
Thank you, Janita and Kathleen, for your service to VNA and the seniors we serve. We are honored that you have chosen to donate your time and energy to deliver joy!