Inspired by the legacy and message of Dr. Martin Luther King Jr., volunteering on MLK weekend has become a special family tradition for the Kwizera household. For Emmanuel and Kechi and their daughters, Airelle (8) and Jocelyn (4), the pandemic gave them even more reason to do something special to spread joy to others.
"This year the girls wanted to do something big and the fundraising project came from their desire to give," said Kechi. The girls dedicated themselves to the project and spent more than two weeks creating 50 handmade hot cocoa kits and writing special messages of hope for each kit. On the weekend prior to MLK Day, the girls stood out in the cold from morning to sunset selling the kits. As Arielle says, the bags were filled with "…hot cocoa…and lots of love!" Thanks to friends and neighbors, the kits sold out and resulted in $100 raised each for both VNA Meals on Wheels and the Kids Heart Challenge of the American Heart Association. The girls felt an enormous sense of pride as they handed Inga Wilson, VNA's Managing Director of Meals on Wheels and Population Health their donation. The girls are already talking about their next fundraiser!
Emmanuel, an engineer at Toyota, and Kechi, an executive at Bank of America, say they are truly honored to work for two companies with strong giving missions. Both Bank of America and Toyota are long-time supporters of VNA Meals on Wheels. The family signed up to volunteer on the MLK Day of Service through a Toyota-sponsored event. "We're passionate about feeding people in our community and we're blessed we have the ability to…give them in return. Our hope is that no family or child ever have to go without food. That's the spirit behind all that we do," said Kechi.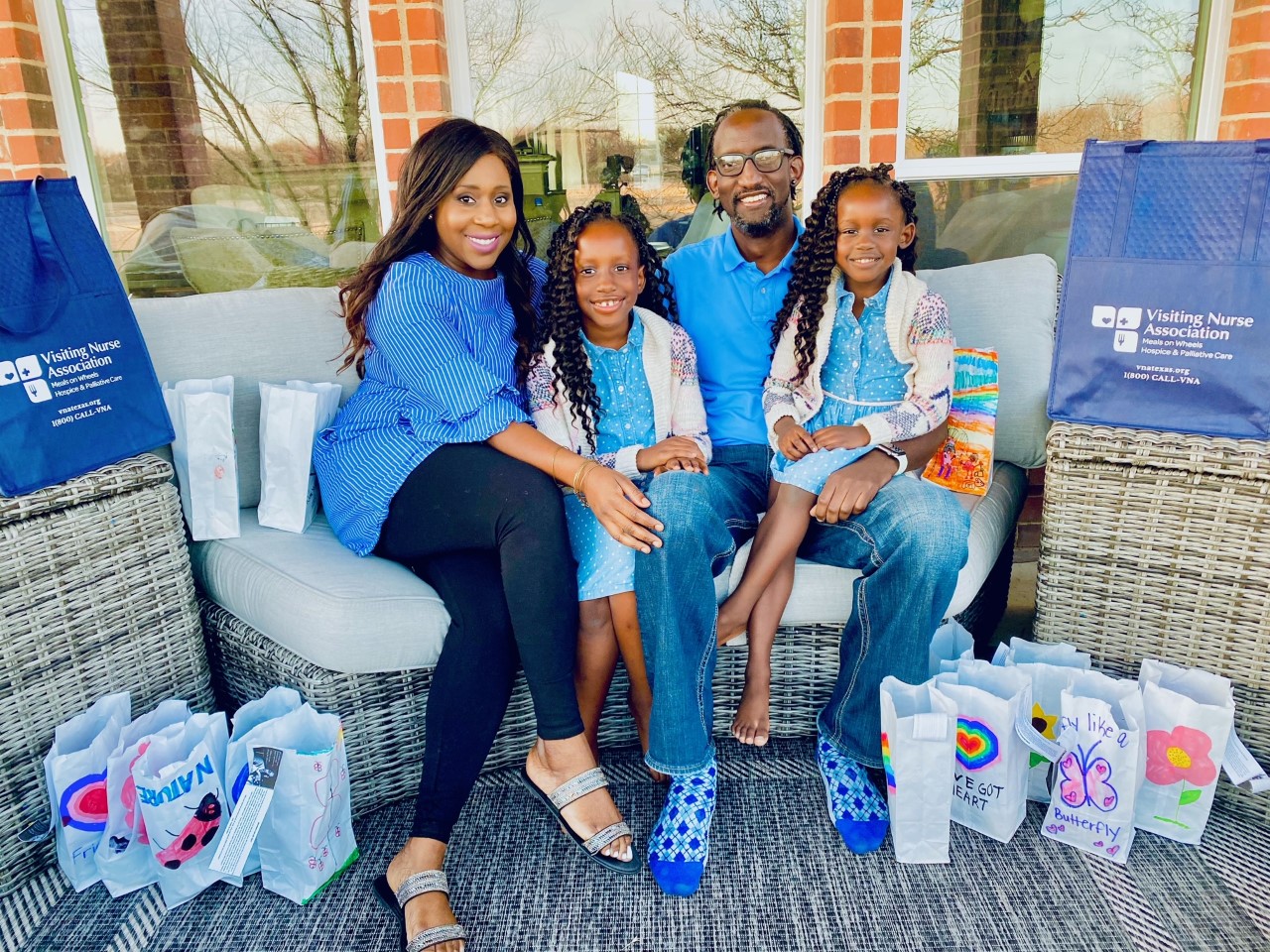 The family set out to deliver meals on MLK Day. The girls felt compassion and concern for those they were serving. They asked, "How will all of those people in that one house share one meal?" It was a teaching opportunity for Emmanuel and Kechi. "It was a reality check for them. We explained that not everyone has what we have, but we can always pray for them and do all that we can to help support those who need it most," said Kechi.
The family plans to continue to support VNA Meals on Wheels. Emmanuel and Kechi said, "You go in thinking about the impact you'll have on others, but the impact volunteering has on your own heart is what keeps you going. As long at the opportunity is available, we'll do it! Our hearts are truly filled by this experience."
VNA is grateful to the Kwizera family for sharing their story and for their service!